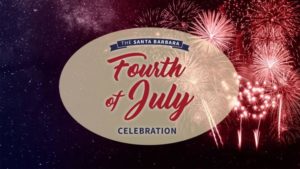 Fourth of July is right around the corner so put on your most patriotic outfit and join in on the fun. From back yard BBQ's to beach parties, there is something for everyone. Here are just a few exciting happenings in Santa Barbara that you can partake in:
Stearns Wharf Merchants Association Live Music and Fun
Enjoy live Music beginning at 11:00 a.m. and hang out and enjoy the festivities until the City's fireworks show begins at 9 p.m. where visitors will have one of the best views in Santa Barbara. While waiting for the fireworks show to begin, the wharf offers many attractions including live music by Tequila Mockingbird and others along with face painting; ice cream, sherbet, candy, popcorn, fudge, and cotton candy; jewelry, hats, leather goods, art, crafts, gifts, toys, shells, mineral, and fossils; wine tasting; bait and tackle along with fishing gear rentals; palm reading; fresh fish, shellfish, steaks, prime rib, fish and chips, burgers, cocktails, exotic tropical drinks, and more! You can even enjoy a child-friendly water taxi ride and interactive Sea Center museum.
4th of July Art Show
Visit the Old Mission Santa Barbara (2201 Laguna Street) for a special 4th of July Art Show and view 80 incredible artisans for one of the largest and longest running art shows in California! Grab a bite to eat and enjoy the sights and sounds of this long running art show. Free parking and admission! 10 a.m. to 5 p.m. Visit www.oldmissionartshow.com for more information.
4th of July Parade
The 55th Annual 4th of July Parade begins at 1:00 p.m. at Micheltorena Street, proceeding down State Street to Old Town Santa Barbara, concluding at Cota Street. Over 175 agencies will parade to a patriotic theme for the community to enjoy. This event is coordinated by the Pierre Claeyssens Veterans Foundation. Contact www.pcvf.orgor (805) 259-4394 for more information.
4th of July Sunken Gardens Concert
Another community favorite is the free Annual 4th of July Concert held at the Santa Barbara Courthouse Sunken Gardens starting at 5:00 p.m. The concert features the Crown City Brass Quintet performing songs of America with Music by John Philip Sousa, Scott Joplin, Leonard Bernstein and more. Bring your beach chairs and blankets for this Santa Barbara tradition brought to you by the Pierre Claeyssens Veterans Foundation. More information may be found at www.pcvf.org/fourth-of-july.
Santa Barbara City College 4th of July
Santa Barbara City College is proud to host a family-friendly 4th of July viewing at their Main Campus. Bring your lawn chairs and enjoy views of the fireworks show at the Santa Barbara Waterfront. Food Trucks will be on site from 4 – 8 p.m. Guests are welcome to bring their own food, but please be advised that no alcoholic beverages, barbecue grills, or fireworks are allowed on campus or in parking lots. Campus rules regarding alcohol and smoking will be enforced. Viewing areas will be located on the West Campus Great Meadow and the East Campus Winslow Maxwell Overlook. For more information, including a map of the campus, click here.
These Colors Don't Run
The 5th Annual "These Colors Don't Run" event will take place at the Veterans' Memorial Building on Sunday, July 8th (12 p.m. – 7 p.m.) with a South Pacific theme. The day will feature live music, dancing, special performances, a military car show, an art show, silent auction, pinup show, unique patriotic and tropical drinks, kids games, BBQ, and sunshine. Event benefits Santa Barbara volunteer-run veteran groups. For all the details visit www.thesecolorsdontrunsb.com
While celebrating your independence, don't forget to thank a veteran!
Wishing you and yours a happy and safe 4th of July!