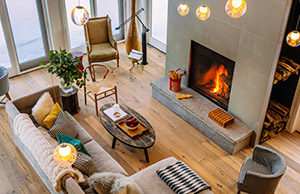 It's that time of year again. Pumpkin spice goodies and home makeover trends dominate Pinterest boards and magazine covers. Here are a few key trends for fall and winter:
Woodsy Vibes
Type in DIY wood pallet on Pinterest and watch the firestorm that comes back. This year, it's all about mixing woods and stains. Whether you prefer the unfinished, rustic look or lean toward deep cherries and intense oaks, this is the year to mix it up and experiment.
Heavy Knits
The financially savvy understand the best way to redecorate is with accessories. Instead of a new couch or table, upgrade a room with throw pillows and blankets or candles and mirrors. Fall 2018 is all about chunky, cozy blankets. Find one in a deep purple or midnight blue and toss it over an armchair, then hibernate with a cup of hot tea and enjoy the laid-back charm of a happy home.
Citizen of the World
Cultural themes are too matchy-matchy. This year, people want to mix patterns from all over the globe. So hit up your favorite boutique and look for paisleys, ornate Indian prints, handmade pottery, and dyed textiles. Imagine tassels, rope, and safari prints on everything, including throw pillows and wall art. Celebrate earthy textures like volcanic stone and amber in rich colors of berry and ebony.
Contemporary Charm
Like seasons past, the neutral minimalism of modern décor never goes out of style. Set a wicker chair on an oatmeal-colored natural-fiber rug and breathe in the effortless charm of the artisan-inspired home. Use natural materials to offset pops of color, like handblown glassware on a silver tray.